Winter heating bills can often be a source of worry for many households, but we can help alleviate some of the stress with our free Average Monthly Billing (AMB) plan. AMB enables you to pay your annual energy bill in average monthly payments to avoid the seasonal ups and downs of your natural gas bills.

Residential customers can switch to Summit's Average Monthly Billing plan to help make payments for your heating bills more predictable and manageable by spreading the cost out over the year. This will not reduce your annual heating cost, but it will help you budget by billing you the average amount based on the last 12 months, each month.
When you enroll in AMB, we'll determine your average monthly payment amount for your household based on your past energy usage. This helps your monthly gas bill remain more consistent and predictable, regardless of changes in your actual energy usage throughout the year. This is particularly helpful during the winter months when energy usage tends to peak due to increased heating needs.
How our Average Monthly Billing (AMB) works
AMB is a rolling average based on your actual gas usage. It's calculated by looking at your previous 11 months' bills added to the total for the current month. This amount is then added to your accrued debit or credit balance. That sum is then divided by 12, and that's the amount you pay that month. Because it's a rolling average, there is no true-up at the end of the year.
Not only can AMB help you avoid unexpected high bills, it can also help you manage your household budget by knowing ahead of time about how much your monthly gas bill will be, so you can plan and budget accordingly.
Enjoy a more stress-free winter by enrolling in AMB today!
To sign up, log in to your account or create a "My Account" Online by clicking the orange Login/Register button at the top of the page. Once you're logged into our self-service portal, choose "Average Monthly Billing" located under the Payment Options tab. From there, you'll choose the "Set Up Average Monthly Billing" button. Or you can reach out to our Customer Support team to assist you by calling 800-992-7552 in Arkansas or Texarkana, or 866-275-5265 in Oklahoma. Your AMP plan will begin the following month.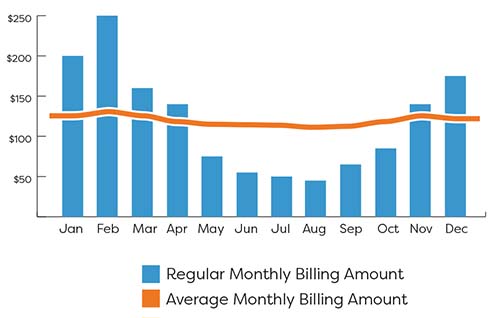 Looking for more ways to save?
Visit our Ready for Winter page for resources and information to help you stay warm and save money.
Need help paying your bill?
If you are having trouble paying your natural gas bill, please contact us right away for assistance; don't wait until you receive a disconnection/shut-off notice or your natural gas service has been disconnected. Financial assistance may be available to eligible low-income households for home heating needs through federally funded programs and crisis assistance offered by counties. Visit our Payment Assistance page for links to programs near you.